We achieve consistent performance levels with flexible working methods.
We believe that you can achieve incredible things with more creative freedom. While many companies have a culture of control, reporting and rigid structures, we think and act differently: Mutual trust facilitates potential, not constant supervision.
Accordingly, we do not define ourselves by the time spent in the office, but by convincing results. As a result, flexible home office models have been a part of our corporate culture for years, as have individual working times and sabbaticals. For example, you can switch to a flexible 3 or 4 day model from a 5 day model after one year at R&A. And with individual sabbaticals of three to six months, we want to help you keep your health and private and professional lives in balance.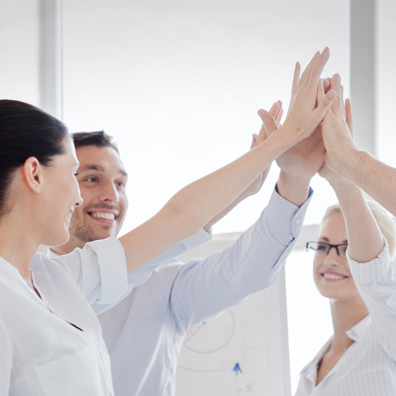 Working in the team at R&A:
growing together, and "growing together".
A good, well-integrated team is more than the sum of its members – provided there is a mutual understanding that is about more than just work. We promote this kind of atmosphere with regular lunches together, after-work evenings and annual team events. These occasions give us plenty of time to talk about things we don't get to in the boardroom. We value private and professional entrepreneurship and initiative highly.